CEF International Ministries
The International Ministries (IM) department of CEF is based at CEF International Headquarters in Missouri, USA. It came into existence many years ago, as the ministry of CEF began to expand around the globe.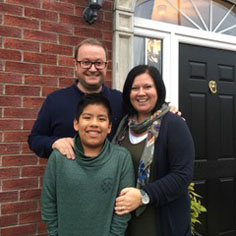 Philip & Denise Annett
My wife and I became Directors of Leadership and Ministry Development in February 2016 and our main purpose is to help strengthen and develop national ministries around the world, and to encourage and train national leaders in the ministry. We are thrilled to be working alongside CEF GB at present, and together with Lydia, we are seeking to help promote the ministry, engage in teacher training, and provide pastoral care and support to the CEF GB workers.
Lydia Hardesty
My name is Lydia Hardesty and I serve as assistant to the directors of international leadership and ministry development. My greatest desire is to see the earth filled with the knowledge of the glory of the Lord as the waters cover the sea (Habakkuk 2:14). The Lord has called me to work to that end by encouraging and serving CEF missionaries around the world who are spreading God's glory among the nations' children.