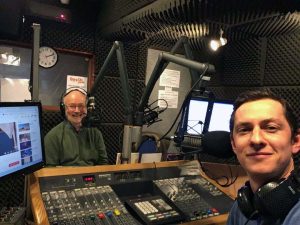 On 22nd March I was interviewed by Dan Malan on our local radio station, Hope FM 90.1, based in Bournemouth. Dan hosts "The Good News Show" each Friday afternoon.
This was a wonderful opportunity for me to share my Christian testimony – how I started to trust Jesus as my Saviour when I was 9 years old and some special highlights of how God has made himself known to me in the following sixty-two years. Dan asked me about my leadership role as an elder of Lansdowne Church in Bournemouth and what is involved in my leading of the team that arranges the annual Bournemouth and Poole Bible Convention in July.
Dan and I chatted a lot about the CEF ministries in which I am involved, in Britain, Europe and, more recently as a member of the International Board of Trustees at CEF International HQ in Warrenton, Missouri. I told Dan that I did not even know about CEF until I was 50 years old, when my wife and I took our son, Tim, for six months of his gap year between school and university, to serve the Lord as a volunteer at CEF Europe's HQ in Switzerland. This was a life changing experience for us all. It has subsequently opened the doors for my increasing involvement in this ministry, which, during 2018 has brought the gospel to more than 25 million children around the world.
Although I felt a little nervous before the start, Dan put me at my ease. We talked together for more than an hour from time to time during the show. Some of my family, in laws and friends were listening and told me I did a good job! I know that God honoured my preparation and gave me a freedom to share about how He has led me step by step to be more involved in CEF and of His faithfulness to the leaders, workers and volunteers who continue to reach every child, in every nation, every day with the gospel of Jesus.
David Cook
Chairman, National Committee CEF Britain